Virtual Racebook 3D

I am a big online slots player.  They are the perfect combination between relaxing and exciting.  I was looking for a change of pace today and looked into the Specialty Game section at Slots LV.  There I found Virtual Racebook 3D and now; I think I have a new pastime.
As you can see  the graphics are so real that I feel completely justified in rooting for my horse.  It feels different from other online casino games where it's just a matter of where the gaming software lands.  Don't get me wrong, that's exactly what this is, but it feels more real-life, and therefore, more exciting.  I've never "gone to the track" before, so I've never seen a betting slip and I had no idea what all these bets were.  The instructions spelled everything out really nicely, so I felt that I could bet like a pro.  There was also information on each horse, so you could make a more informed bet.
First of all, there are 3 tabs at the top left corner of the screen on the slots.lv website.  These are "Bet", "Bet Slip", and "Bet Form".  The Bet screen is where you place your bets.  You can make up to ten bets a race at up to $250 pet bet.   After you make your bets, click "Begin Race".  If any of your bets paid off, your Bet Slip will be displayed showing which bet(s) won and how much money you won.
Let's discuss the different types of bets you can make playing Virtual Racebook 3D.  First, there's the Single Bet in which you choose the winning horse.  Then, there's the Show Bet in which you choose a horse that you believe will finish in 1st, 2nd, or 3rd place.   The Lay Bet is the opposite of the Show Bet.  The Lay Bet has you choose a horse that you do not think will finish in the top 3 places.  The next type of bet is a Forecast Bet (also known as an Exacta Bet).  In this type of bet you choose which horse will come in 1st and which will come in 2nd.  There are radio buttons next to each horse for you to make your selections.  You can also play a Reverse Forecast Bet at the same time in which you switch the order of those horses in 1st and 2nd place.  A Tricast Bet (also known as a Trifecta Bet) is a wager in which you choose 1st, 2nd, and 3rd place horses.  Finally, there's the Box Forecast.  After you place a Forecast Bet you can click on the box to make it a Box Forecast.  A Box Tricast would mean that you are betting that those three horses will finish in the top three.  It's a bit more specific than that, though.  Essentially you are placing six different wagers that speak to 6 different finishing patterns of those 3 horses within the first three spots.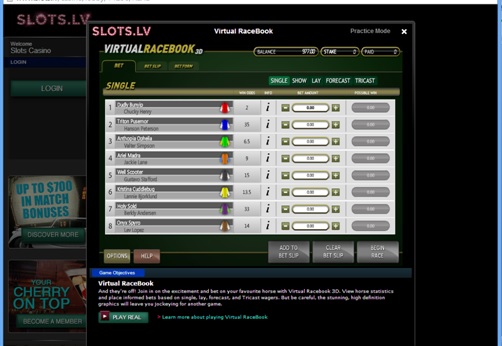 The picture above displays the Bet screen.  This is where you select what kind of wagers your making, and on what horses, and how much.  The odds for each horse are listed to the right of the colored jersey, and of course they change when you select a different type of wager from the top of the screen.  For information on each horse, click the "i" next to each horse, or go to the "Bet Form" tab.  To place a bet, click the plus and minus buttons next to the horse, and click "Add to Bet Slip".  Once you're done making you wagers, you click "Begin Race".  The screen then switches to the horse track where you get to watch the ponies compete!  Once the race is over, your Bet Slip showing your wins/losses is displayed.
I thought this game was a real thriller.  I could really get into this, checking these horses' stats and determining the best type of wager to make on each horse to maximize my winnings.  This is my new favorite side game, taking a close second place to my online slots.