Quicktender Shutdown: Will Players & Affiliates Ever Be Paid?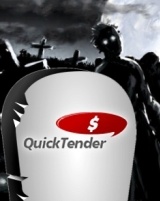 It's been nearly a month since I requested almost $1,000 from Quicktender and there's still no money in sight. Unlike many players and affiliates, I withdrew my account balance right before the Quicktender/UseMyWallet shutdown. Then I received this email (which basically says that my money is out there in financial limbo):
As your recent QuickTender withdrawal was not received into your nominated bank account we will be putting it shortly under the "Uncleared Balance" to your QuickTender Account.

We are communicating with our bank to find out where your funds are currently located and why they have not been processed. The funds were transmitted by us in good faith through a major European bank, and have left our account. We understand that the money has been frozen in the US banking system, and you will appreciate that this is entirely beyond our control.

We fully acknowledge you are the rightful owner of these funds. We will fully support you recover these funds and provide further details as soon as we can assist.
A week ago I received this email from them:
Since our last email communication where we advised any funds in your QuickTender account could still be used to purchase at QuickTender accepting sites we had been working hard to reinstate our withdrawal facility and ensuring your funds where safe and secure.

However, further developments specifically relating to our main bank processing company have resulted in our accounts being frozen subject to a seizure order giving us no ability to make payments in any currency.

In light of these developments we have had no option but to discontinue the Quicktender service with immediate effect and for the foreseeable future.

At this time we are unable to confirm when or if we could make payments of remaining balances.

We will keep you advised of future relevant developments.

QuickTender Support
Since then, we've learned that the funds have been frozen by the United States DOJ and their war on entertainment from the comfort of your home.
So now, there's little for players and affiliates to do but sit and speculate as to whether they will be paid or not. Personally, I'm optimistic and believe that, similar to the Neteller fiasco, eventually we'll all be paid.
But what do you think? Will players and affiliates get paid, or will we get stiffed?