Picking on Online Casino

I have seen hundreds of casino gambling websites, and just like land based casinos, there are good ones and not so good ones. I have written reviews for a few of the ones I have played at. I can only speak from personal experience, but each of these online casinos has treated me fairly and professionally.
If you are just looking for a place to play free casino games, any of them will work just fine. You will find that 98% of online casinos will offer free games for people who just want to play for fun or learn the casino games.
If you want to play for real money, you need to gamble somewhere safe, and that is why I offer these reviews. Never gamble online somewhere that you are not familiar with. Don't just read casino reviews because half of them are paid for by the casino. You will want to check out the popular casino forums and read where other actual player make their deposits.
Even the casinos that seem really reliable and have been around for years can turn rogue. Some examples of this are GoldenCasino.com, OnlineVegas.com, CrazySlots.com, GoCasino.com, EnglishHarbour.com, MillionaireCasino.com, VIPSlots.com, SlotsGalore.com and SuperSlots.com to name a few. What you will see in all of these cases is that the casino is now closed and the website has either become a portal for other casinos or has been disconnected altogether. The last thing you should do is follow the advice of one of those defunct casinos' portal listings.
Here is a big hint to all of you gamblers: Whenever a casino portal lists a brand new online casino as one of their top sites, it's because they want to get credit for you as a customer because they are an affiliate of the casino. Most people don't clear their Internet cache very often, so it's first clicked, first credited as far as the affiliate software is concerned.
Other rogue casinos are still very operational. These include CherryRedCasino.com, RushmoreOnline.com, PureVegasCasino.com, SlotsVille.com and SlotsOasis.com to name a few. They are considered rogue because they have taken more than a month to pay players who request a withdrawal. On top of that, take a look at the payout chart for video poker at Cherry Red listed below: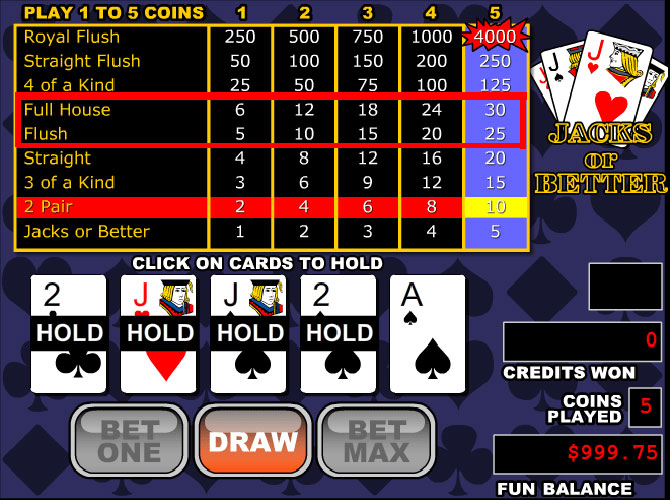 If something looks wrong, it's because the payouts for Full House and Flushes are supposed to be 9x and 6x respectively. Any online casino that messes with the payouts shouldn't be played at period!
Beware of Bonuses
The other thing you should look into when playing online for real money is if the casino offers any kind of sign up deposit bonus. If they do, there is no reason not to take advantage of the free money, but you MUST read the terms and conditions of any bonus before accepting it. Some of them do not let you play games like blackjack or video poker if you accept a bonus.
Any online casino that does not clearly state the rules for their bonuses or tries to hide the terms and conditions should not be played. This includes any casino bonus that states there is a 30x rollover, but then hides the fact that wagers on blackjack and other games only count for 10% towards the rollover.
Always look for the following statements which indicates that the bonus money cannot be withdrawn: "For wagering purposes only", "Non-cashable bonus", or "Bonus money will be removed upon withdrawal". In some cases, these types of bonuses are fair when they are trying to give you a bankroll to work with. In those cases, there won't be any complex language in the terms and conditions regarding the wagering requirements.
Any casino bonus that appears too good to be true … is too good to be true! Either the wagering requirement will be high enough that you are likely to lose your deposited money, the money you deposit will be used before the bonus money which can't be withdrawn, or there are complex rules that can void the bonus and any winnings if you try to make a withdrawal.
The general rules with bonuses are: no percentage higher than 200% for slots, no percentage higher than 100% for table games, no dollar amount higher than $500 for a single deposit with slots, no dollar amount higher than $250 for table games. Anything that I've personally seen that does not meet that criteria is a complete waste of time/money.
Which Casino Should I Deposit Money At?
Like I said before, you need to make an educated choice and research the casinos beforehand. Listening to other gamblers at the major casino forums is the key. The most common complaint is not that the games are fixed. The most common complaint comes when it is time for the casinos to pay you your winnings. Either they take too long so you have a chance to lose the chips back to them, they try to void your winnings for breaking some obscure rule that they don't list, or they simply stop paying customers.
Currently, my favorite choice is www.Bovada.lv. This is strictly my personal opinion and preference because they are the quickest site to pay out winnings. You will notice that I didn't put an affiliate link on there, nor do I have dozens of banners pimping Bovada, because I'm not trying to bilk you out of your money.
Lastly, beware of the banners. If there is one thing that we have learned over the past 10 years, it is that all banners and text ads on the sidebars and navigation bars are paid for. They make money when you click on them. Google has made billions of dollars per year doing this on millions of websites. Don't let them make up your mind for you. Do the research and find real people who aren't getting paid to say what they are saying.